In past years, I have run a quilt along that coincides with the 'off' weeks of Project QUILTING – first it was 'Home Sweet Home' and then 'My Favorite Block'.  In 2015 I did something a bit different – well, completely different.  I shared a block tutorial each week for the entire year.
These blocks combined the two previous quilt alongs. They are traditional quilt blocks that are 'tweaked' to show a second element – like houses.
It all started when I saw this 'House Swoon' block by Rachael of Blue Mountain Daisy  She tweaked Camille Roskelley's Swoon block. Clever! She shows you how to do it, get the tutorial.
From seeing that…I went ahead and used it for my inspiration for the Double Wedding Ring Challenge and made my double wedding rings into an entire subdivision – again, tweaking a traditional block.
I explored traditional blocks 'twisted' into a secondary image like a house, tree, or even a bird!  I hope you decide to join in with me and explore the blocks I created!
See how you can be a block designer HERE.
Flickr group has been created!  52 Blocks: Twisted Tradition
Hashtag for twitter and Instagram: #52bTT
Fabric suggestions… HERE.
Basic Embroidery Stitch Tutorial
Schedule
Add the '52 Block' Button to your blog by grabbing the button below and help spread the word!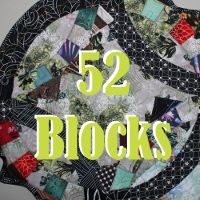 Once this is all over I'd like to create a  saleable pdf booklet of all the 52 blocks at one time. Please keep this in mind if you volunteer to make a block – of course you will get proper credit in the pdf booklet but there will be no monetary compensation.