Yeah! It is Sew Mama Sew's Giveaway Day'! I LOVE Giveaway Day! (well..technically week). It's a great opportunity to take some time, check out bloggers, and of course – win some goodies
in the process!

Before we get to the giveaway I want to tell you WHY you want to follow my blog and read it every time I post!
My Quilts
I tend to make quilts that don't follow any typical guidelines. I love to have fun with colors, prints, and mixing the unexpected. I recently posted about my 'African Impromptu Quilt'.


And I'll be sharing the whole story behind the latest quilt I finished 'Novitiate Nebula' later this week. Trust me…this is just the start. I hope to have my Fairy Tale/Aurifil Sampler quilt finished in the next month or so…I can't wait to take the final pictures of that one! I can pretty much guarantee that comments about my quilts will not be "It's boring" or "I've seen that before."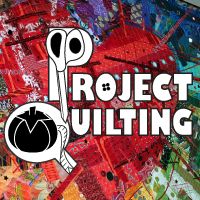 Project QUILTING – a fun quilting challenge that gets posted every other week. I am currently between 'seasons' of Project QUILTING but I am posting a monthly 'off season' challenge to keep everyone motivated and inspired to make a quilt each month. Also – it's time to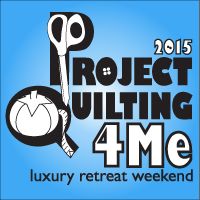 sign up for the PQ4Me Quilt Retreat weekend coming in 2015! It's going to be an amazing weekend that you're not going to want to miss this!


I'll be making by television debut on PBS with 'Nancy's Corner' – a portion of the show 'Sewing with Nancy' in September of 2014. I had the pleasure of talking to her about Project QUILTING and why it's been such an inspiration to so many!

To read more about what it is check out the 'Project QUILTING' page.
I never say no to a challenge – this one's not related to Project QUILTING but you're going to want to read about it – the Farm to Fabric Challenge.
Quilt Alongs –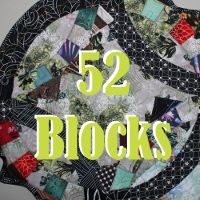 Two years ago I hosted my very first quilt along – Home Sweet Home followed by 'My Favorite Block Quilt Along'.
This year I switched it up a bit and I'm sharing a block tutorial every week for the entire year – yup, 52 blocks! Of course – there's a twist…you'll have to stop HERE to see what it's all about! I've already shared 19 Block tutorials so far this year – everything from a whale to a fox to a group of baby chickens!
PS. I'm still looking for guest block designers/bloggers…head over and see if it's something you'd be interested in…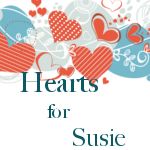 Hearts for Susie – Hearts for Susie is a little campaign I'm running to help raise awareness for Women's Heart Health. You can read more on why I chose this as my mission HERE.
Family and Orchard –

I have three beautiful baby girls, a handy hubby and an apple orchard. You'll get to hear more about our adventure's throughout the year and for some reason it seems like we're never lacking in adventure.
Alright… enough about me! Let's see what I'm GIVING AWAY this week!…
WHAT CAN YOU WIN FROM PERSIMON DREAMS?

One lucky randomly drawn participant in this BONUS Challenge will win a bundle of six fat quarters of fabrics I hand-dyed AND


A mini bundle of Aurifil Thread
HOW TO WIN!
I will ship internationally.
REQUIRED: Easy – Just leave me a comment answering this question:
Be sure to include your email address so I'm able to contact you when you win! If I can't contact you I will choose a different winner.
What exciting adventures do you like to go on during the summer?
BONUS Entries Leave a separate comment for each to gain extra entries
Like Persimon Dreams on Facebook
Follow Persimon Dreams on Instagram
Sign up for my Newsletter
Tweet about this giveaway and mention @PersimonDreams
Follow my blog by either subscribing to my feed, with blogloving, feedly or other blog reading program.
Giveaway is now CLOSED.
Seriously – if you don't leave your email address, I won't be able to get ahold of you and you won't get the prize…this is very important!
And…now that you've entered my giveaway – head back to SewMamaSew and see what other blogger's have to offer!!!
There are two different giveaway sections –
– Supplies/Fabrics/Patterns
– Handmade Items
Be sure to check them both out!