Good morning everyone and Happy Monday! I think my hiatus from blogging after the whirlwind of Project QUILTING is finally over! I have been working on a bunch of things behind the scenes and can't wait to share more about that with you all.
If this is your first time visiting my blog I am Kim Lapacek, a free-range quilter who loves mixing random colors, patterns and textures. For the past few years I was an Aurifil Artisan and before my 2018 Artisan status ended I joined in on a Anna Maria Horner Showcase project that features Aurifil thread. I do have to report that I am not a 2019 Aurifil Artisan but I'm 100% okay with that. I am a LOVER of Aurifil thread and will continue to use it in my projects but I'm also excited to give other threads a try and see how certain threads work better for different projects and on different machines. I was honored to represent this fabulous company for years. Be sure to check out the amazing 2019 Aurifil Artisan line up HERE.
Today I'm sharing the project I made that features these three gorgeous fabrics – Cartwheels, Keys, and Imposter Patina – from Anna Maria Horner's new line Passionflower for FreeSpirit Fabrics and 50 wt. Aurifil thread, color 2340.
When I signed up for this event we were asked to give an idea of what we would make and since I never know until the fabrics "talk" to me I simply wrote "Something Awesome."
Right around the time my AMH Fabric and Aurifil thread arrived – I saw that Amista Baker was having a #PopcornPouchSAL. I think these pouches are just adorable and knew that would be my "something awesome" for these fabrics. I had also recently learned how to sew with vinyl from Natalie Santini of Sew Hungry Hippie and had thoughts of mixing that in with the fabrics and pouches. My good friend, Trisha Frankland was over and she mentioned the amazing Glitter-y Zipper Case tutorial that Sew Hungry Hippie had up and how that would be a cool way to utilize both the fabric, vinyl and glitter. So, that was a really long winded way to tell you how this project came to be.
I used the glitter pouch tutorial and prepped my AMH Fabric for the PopcornPouch project.
Before I knew it – I had a fun popcorn pouch in each possible size! I am officially hooked on this and in love with vinyl and glitter!!!! My 12 year old daughter came home with a couple of her friends and I think they all thought I was crazy with how excited I was about these!
It's hard to pick which one of these is my favorite but I do think I'm going to have to make a ton more of those mini popcorn pouches! They are beyond adorable and perfect for a Chapstick or a few bucks in case of emergencies.
And here is my glamor shot of the Popcorn Pouches.
If you want to make a glitter vinyl popcorn pouch a few things that makes this easier – a vinyl/teflon foot for your sewing machine, wonder clips (pinning through vinyl is not ideal), and chunky glitter.
Please follow along with Aurifil to checkout the other makers who will be sharing their projects over the next few weeks!
~|~|~|~
affilate ads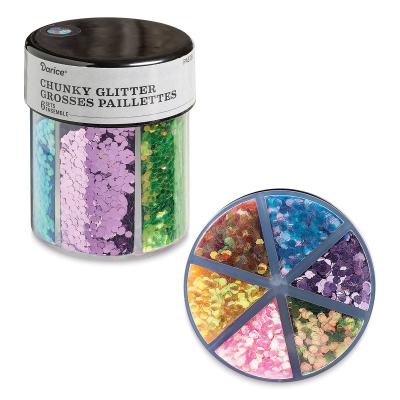 Glitter Shaker – $6.99
from: Blick Art Materials