Happy Black Friday everyone!  I hope you all are enjoying this day. Mercedi and I are heading out to the new Fantastic Beasts movie this morning .. yup an 8:45 am showing. I love that I can go in the morning and still have most of my day ahead of me!  Before we head out though I wanted to share that I have a new tutorial available online and it's great for the holidays!
It's called the "Strip Tree Tutorial" and it shares with you the method I used to create this fabulous scrappy tree!  I made it a tutorial instead of a pattern because I truly prefer to share with you the tools needed to make things your very own! 
This tutorial gives you those tools and before you know it you'll have an entire forest of Strip Trees! You can purchase a pdf version of this tutorial on Craftsy HERE or Etsy HERE – whichever platform you prefer. Also – before I go I wanted to share with you some amazing Black Friday from some companies that I am an affiliate of.  I only affiliate with companies I personally love so even though I will earn a commission if you click on these ads and make a purchase I do stand behind them as well. ~|~|~ First up – Fat Quarter Shop.  I love the Fat Quarter Shop and they have been a HUGE supporter of me and all my crazy ideas from the very beginning!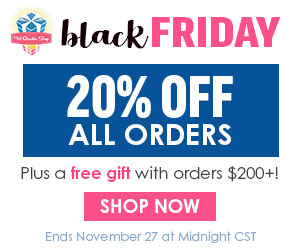 All orders are 20% OFF (see terms below)! Plus orders over $50 will receive a White Kona Cotton Solids Charm Pack as a FREE gift! And orders over $125 will also receive a Black Friday Grab Bag! This grab bag includes SIX mystery items and quantities are limited, so act fast! Hurry – these sales end Saturday, November 24 at Midnight CST! Be sure to check the Fat Quarter Shop Flash Sale page bright and early tomorrow for some super special deals! Instead of the usual 10am, we're going to kick them off at 6am CST! ~|~|~ Next – ThermoWeb. I am a designer for ThermoWeb and am so happily!  When they first asked me it was an easy decision since I've used and love their products from the get go!
~|~|~ Is there anything better than getting a box full of Quilty goodness every month?  Give QuiltyBox a try!  It's always a fabulous surprise!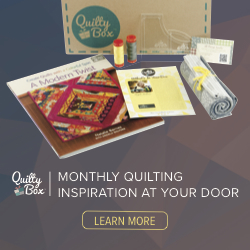 ~|~|~ My last feature for today will be for Creative Bug.  Not only do I love these classes but my kids do as well!  Watch and learn about pretty much any craft you can imagine! 
Plus they have an amazing deal to join right now! Limited Time: Get 3 Months For $1 ~|~|~ And with that … I'm off to the movies!  Have a great day everyone!