Good morning everyone!  I'm excited to be here this morning sharing with you not only my second block in the fun and fabulous Spelling Bee Book Quilt Along but also the adorable little quilt I made from it!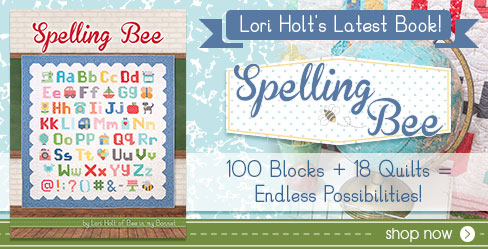 Every Saturday for 44 weeks (this is week 28!), bloggers from across the blogiverse are sharing what they're making with specific letters, symbols or creations from this fun and whimsical book by Lori Holt.
My block today was the house block!  The book not only includes tutorials for letters but some fun little bonus blocks as well!  I love creating quilts with houses on them (shocker right!?) so I signed up for this block right away. 
I used Fruit Dots Navy Gold Stripe from Cotton and Steel for the background. The stripes aren't perfectly straight or even close to that and I love the effect they create on the block. It looks like the house is a wonky house but it's really not!  This is perfect for me as I do love an good illusion while I piece.  Cozy Natural Dream Owl was the fabric I used for the main house.  I love how there are owls peeking out everywhere … even in the door window!
Since I posted about creating the letters for my last name – LAPACEK – in January I have now also pieced the house and the apple block!  I had to add an apple to the mini quilt since my family has an apple orchard.  It was just too perfect! 
It didn't take me long to put together the top for my quilted family name banner.  It's dreary here in Wisconsin and took a little prodding to get the kids out of bed for the picture but I think they look adorable and they love that we now have a fun sign representing our family. Side note … wouldn't these little "name" banners be a really fun wedding shower gift for a new couple?  Pick two of the bonus blocks that represents the couple and then put their name in between.  Sounds pretty perfect to me!  (as long as their last name isn't too long …) ~|~|~ Head over to the Jolly Jabber to see what other folks have been working on with this Quilt Along! Here is the schedule of Quilters, be sure to visit their Blogs and / or Instagram accounts to see what they are up to and don't forget to go an visit Very Kerry Berry to see her Jar of Hearts block!
~|~|~ Have you seen the new "Nesting Box" the Fat Quarter Shop is offering?
It's a Limited Edition Mystery Box that's only available while supplies last!  I ordered mine – don't miss out on the fun!