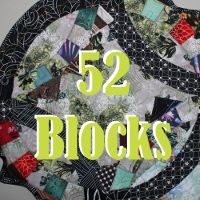 Happy Wednesday everyone! I see some of you enjoyed playing with my 'Square Dancing Whale' Block last week! Be sure to download the pattern while it's free (until Feb 1, 2014). I've gotten a few more guest blogger's signed up to show you their 'twist' on a traditional block – if you're interested in being a guest blogger designer just email me a date at lapaceksorchard at gmail dot com.
Alright –today we're go to take a Road Trip with my twist on the 'Road to California' Block.
Road Trip to California Block Tutorial for
52 Twisted Traditional Block Quilt Along
Finished Block Size – 19" x 19"
For this block tutorial I 'twisted' the traditional block 'Road to California' to look like trees. I just have a block at this point but I'm pretty sure by the end of the year this will be the center of a medallion quilt for me.
Cutting Instructions
Fabric A: Corners
4 – 6.5" squares
Fabric B: Sky of flying geese (blues/purples)
25 – 2.5" squares
Fabric C: tree of flying geese (greens)
12 – 2.5" x 4.5"
Fabric D: Center Square
1 – 4.5" square
Fabric E: Grass border (different shade of green)
8 – 2" x 7.75"
Fabric F: Tree trunks (browns)
4 – 2" squares
Fabric G: Corner Stones (red)
4 – 2" squares
Directions
This block is fairly simple. It consists of making 12 flying geese blocks and then basically sewing a nine patch together. There are many ways to make flying geese so if you have a way that you like best feel free to do this. I am going to show you my personal favorite way of sewing geese together. It does waste a little bit of fabric but I've found this to be more accurate for me.
To make one flying geese block you should take two squares of Fabric B and one rectangle of Fabric C.
On the wrong side of Fabric B squares draw a diagonal line from one corner to the other.
Lay Fabric B onto the Fabric C rectangle with right sides together as shown in the picture above.
Stitch right on the diagonal line you drew on Fabric B.
At this point you could use your rotary cutter and ruler to cut a ¼ inch away from the seam you just sewed. BUT I've found that the exact seam here isn't that important…I just use a nice sharp fabric scissors and cut approximately ¼" off the seam I just stitched. Iron towards Fabric B.
Repeat the same steps on the other side of the triangle. Just make sure the two smaller triangles meet on top when you sew them together.
Trim and iron towards Fabric B so you have a flying geese block.
Repeat this until you have 12 flying geese made.
Pair three flying geese together so they're all facing the same direction. Sew all in a row. Iron whichever way is most comfortable to you.
Now, take your six blocks and sew them together. I would always iron towards the single square of fabric. It will be easier since there are no bulky seams from the flying geese blocks.
Now that you have your main block together it's time to add the borders. These are key because they add the 'trunks' of the trees. Sew fabrics E to F to E together for two strips. Sew G to E to F to E to G together for the other two strips.
Sew on the shorter 16.5" strips to the top and bottom of the block first. Iron towards the borders.
Finally sew the 19.5" strips to the two sides. Iron towards the borders.
And with that…your 'Road Trip to California' is complete! Thanks for following along and I hope you enjoyed this block tutorial!
Get a FREE printable PDF by heading to my Craftsy page and getting the FREE Road Trip to California Block Tutorial. Don't wait too long though! Starting in February there will be a small fee for the Printable PDF pattern…you'll still be able to view it on my blog for free though.
I can't wait to see what all your blocks look like! Be sure to share you blocks and any projects you make using your blocks onto our flickr group: 52 Blocks Quilt Along
Instagram/Twitter Hashtag: #52bTT
Previous Block: