Tis the Season for Sew Mama Sew's Giveaway Day'!  I LOVE Giveaway Day! (well..technically week).  It's a great opportunity to take some time, check out bloggers, and of course – win some goodies in the process!
Before we get to the giveaway I want to tell you WHY you want to follow my blog and read it every time I post!
Project QUILTING – a fun quilting challenge that gets posted every other week.  Season 5 will be starting at the beginning of January and it's never too late to join in the fun!
I actually just posted a 'BONUS Project QUILTING Challenge – Triple Trouble' to start out Season 5 right.  To read more about what it is check out 'What is Project QUILTING'?
Quilt Alongs – Last year I hosted my very first quilt along – Home Sweet Home followed by 'My Favorite Block Quilt Along'.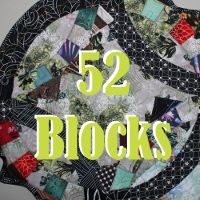 This year I've switched it up a bit and I'll be sharing a block tutorial every week for the entire year – yup, 52 blocks!  Of course – there's a twist…you'll have to stop HERE to see what it's all about!  PS.  I'm still looking for guest block designers/bloggers…head over and see if it's something you'd be interested in…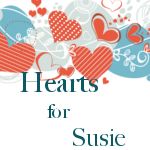 Hearts for Susie – Hearts for Susie is a little campaign I'm running to help raise awareness for Women's Heart Health.  You can read more on why I chose this as my mission HERE.
Block Tutorials – Whenever other bloggers are doing quilt along's I'm always happy to create a block for them.  When this happens it is also shared on my blog with my readers/followers.
Random Projects – I'm constantly making something!  I do my best to share with you what I'm working on, how it's going, and things I've learned.  Recently I went on a 'Jewelry Binge' to get ready for the big annual sale I have at my orchard each year.  As I was tagging and pricing everything I was amazed at just how much I made!  Oh!  And I made my Television Debut just last week!  It seems like something crazy is always happening around here and usually more than one thing at a time… !
Family and Orchard – I have three beautiful baby girls, a handy hubby and an apple orchard.  You'll get to hear more about our adventure's throughout the year and for some reason it seems like we're never lacking in adventure.
Alright… enough about me!  Let's see what I'm GIVING AWAY this week!…
What Can You Win from Persimon Dreams?
One lucky randomly drawn participant in this BONUS Challenge will win a bundle of six fat quarters of fabrics I hand-dyed AND
A mini bundle of Aurifil Thread AND
A free pdf pattern of my 'Hearts for Susie' Pillows.
How to Win!
I will ship internationally.
GIVEAWAY CLOSED
REQUIRED:  Easy – Just leave me a comment answering this question:
Be sure to include your email address so I'm able to contact you when you win!  If I can't contact you I will choose a different winner.
What is your favorite food to eat at the holiday?…feel free to share recipes if it's really good but this isn't required
BONUS Entries  Leave a separate comment for each to gain extra entries
The giveaway closes on Friday, December 13 at 5 p.m. PST.
Seriously – if you don't leave your email address, I won't be able to get ahold of you and you won't get the prize…this is very important!
And…now that you've entered my giveaway – head back to SewMamaSew and see what other blogger's have to offer!!!
There are TWO posts over at SewMamaSew…