Did you know that heart disease is the number 1 killer of women?

Heart disease causes 1 in 3 deaths every year – approximately one woman every minute.
Wow – this started out as a completely different post than you probably expected to see from me. Today I am launching something I've had in the works for over a month – 'Hearts for Susie'. Some things have happened to lead me here and I want to do what I can to help support Women Heart Health Awareness. It all started when a little over five years ago my mom called me to tell me that my cousin Susie had passed away. I was in shock. Susie? What? She's not even in her 40's yet. She has two young children. She must have been talking about someone else. Unfortunately she was talking about my cousin and yes, at 39, she passed away from a heart attack and left two wonderful kids without a mom.
Then this summer, another person I know lost someone to heart disease before they were even 40. It inspired me to do something, even if it is a small something, to try to raise money for this extremely important cause.
I talked to my mom about my 'idea' and she told me I should get in touch with Susie's sister, Sandy (my cousin) because she has become active in the 'Go Red for Women' Movement. It was an inspiring conversation and I knew that what I had planned was going to work. It also turns out that Sandy has not just become active in the Go Red movement but has become a big force behind it. In 2012 she was even invited to the White House for the White House Community Leaders Briefing on Cardiovascular Health.
I interviewed Sandy to help give you all a better idea of why it is so important to do what we can to raise awareness on Women's Heart Health.
My cousin Sandy and her daughter, Sophia
What prompted you to get so involved with the American Heart Association?
After my sister died from a heart attack at age 39, I was shocked to learn that she was not alone. In fact, every minute of every day a woman dies of heart disease.
However, most heart disease is preventable. When I learned that moms, sisters and daughters don't have to die from this disease, I began working with the AHA's Go Red movement to build awareness about heart disease and ways to prevent it. Women truly do have the power to save their own lives and the lives of others. We're making great progress arresting this disease, but there's much work to be done.
How long has it been since your sister has passed?
5 years. July 21, 2008
Why is it so important to raise people's awareness about heart health, specifically women?
Many women believe that this is an older person's disease or a man's disease. We don't believe that in our 20's and 30's and 40's we are risk of dying from heart disease. It's important for women to have accurate facts and to make choices based on those facts so that they can stay healthy and strong for the people they love.
Is there one important life style change people could focus on making to help their heart health?
Lifestyle changes are powerful. Talking with your doctor about your risk is a first step. There are loads of great resources available at the AHA web site related to smoking cessation, weight management, exercise and stress reduction.
So how do I plan to raise awareness and money for this great cause?
Hearts for Susie
Patterns, Pillows, and Hearts
Heart Pillows
// new Etsy.Mini(5259093,'thumbnail',4,2,1,'http://www.etsy.com');
// ]]>
I currently have heart pillows for sale in my etsy shop. Each are unique and range from 12", 14" and 16". I plan to make even more as time allows. A portion of the proceeds from each pillow sale will be donated to the American Heart Association in Memory of Susie.
// new Etsy.Mini(5259093,'thumbnail',4,2,1,'http://www.etsy.com');
// ]]>
Heart Pillow Pattern
Do you want to make your own quilted heart pillows? No problem! I created an easy to follow pdf pattern so you can create a 12", 14" and 16" pillow for yourself or a loved one. Get your pattern either through Craftsy or on Esty. A portion of the proceeds from each pattern sale will be donated to the American Heart Association in Memory of Susie.
Hearts
Go HERE to see what I have available to you.
Please help spread the word and add this button to your blog!
// new Etsy.Mini(5524940,'thumbnail',4,1,1,'http://www.etsy.com');
// ]]>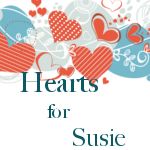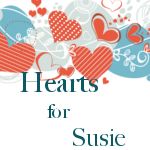 Thank you for all your support in helping me raise awareness about Women's Heart Health. Like Sandy said earlier:
"Women truly do have the power to save their own lives and the lives of others."