First – HAPPY WORLDWIDE QUILTING DAY!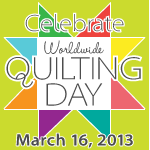 In honor of today I'll be announcing the winner of my Beat the Winter Blues giveaway and the Public Vote Winners for Project QUILTING.
I hope to do a little bit of quilting myself at some point today but I think all I'll get to is hand sewing some binding on and maybe work on some hexagons.  BUT yesterday I did A LOT of quilting… so I feel okay about this all.
Let's start with the Project QUILTING Public Vote WInners
Coming in second, winning
a pdf pattern of my original 'Spinning Nines' Table Runner  is…
WayMooreFunQuilts
with 47 of the 461 votes cast!
And in first, winning
this amazing Batik 5″ Charms: 40 Tonga Treat Mini Squares in Pomegranate from FabricFascination is…
Sally Manke
with 93 of the 471 votes cast!
Congrats to you both and to all who participated in the past challenge.  Really beautiful quilts were created!  Fantastic job to everyone!
Instead of doing two separate posts I'm going to also announce the winner of my 'Beat the Winter Blues Giveaway' on here.
The GIVEAWAY!
One lucky winner will be receiving – one of these fabulous 'Project QUILTING Bundles' over at the Fat Quarter Shop that was but together for the 'Tradition Times Three' Bonus Challenge.  ***If you already have the bundle you can choose a friend to send it too to help them join in the fun!
PS – This is the last bundle I'm giving away – if you want to join in the challenge fun I would purchase your bundle soon.  Quilts are due May 3oth!
PPS – does anyone know of a good WordPress widget that numbers comments?  I thought I put one in but it obviously didn't work…
151 comments were made during the time period allotted for the giveaway so I went to the random.org to see what the lucky winner was…
114Ali M / March 12, 2013 (Edit)

I really love the Quilted Patchwork Pillow Vintage Typewriter, that's a really interesting print you used there. Thank you so much for the giveaway!
Congratulations Ali M!  I'll be contacting you to get your address for your prize!
And – because of this fabulous day I'm also going to share with you a treasury I created to show off just 16 of the fabulous quilts you can find for sale on etsy.  And these barely touch the bounty of quilts you can find – there's the perfect quilt for everyone's taste on etsy.   Be sure to look around!
CELEBRATE! And show these talented quilters some love on their special day!
Treasury tool supported by the dog house

Have a 'Patchworkingly' wonderful day!  We'll see you back here tomorrow when you check out the very last challenge of Season 4 of Project QUILTING!