I'm really excited to be a part of the Quilting Gallery's big Celebrate Back to School's Blog Hop Party.  If this is your first time here I just want to welcome you to my blog!  I'll just give you a quick overview of the major things that happen on here: (and yes – I will ship internationally…)
Project QUILTING

The biggest thing that happens on my blog is 'Project QUILTING'.  To find out more about Project QUILTING click HERE.  Season 4 is tentatively scheduled to start in January of 2013 (sorry for the wait…it's apple season!)
Challenges
I love a good challenge!  And if it's at all possible for me to squeeze it in – I will.  The latest quilt I finished from a scrap challenge is here:

Amazing Technicolor Dream Quilt
Home Sweet Home Quilt Along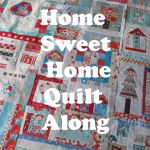 Earlier in 2012 I hosted the Home Sweet Home Quilt Along.  I should have my quilt finished and ready to share with you all in the next few weeks.  It's not too late to go back and use the block tutorials to make your very own quilt!
Quilt Alongs
I fell so in love with quilt alongs in 2011 that I am currently working on seven all at the same time!  I update either weekly or biweekly of my progress on them.  You can see my latest post HERE.
Etsy
I'm an avid seller (PersimonDreams and TheApple)  and supporter on etsy so I do post tips/tricks/tutorials to help you on your way to be a successful etsy seller.  I also enjoy featuring great items I find on there.
I do have separate blogs for my family and orchard (yes, I own an apple orchard) but sometimes the news is just too great I can't help but to share it on here too!
GIVEAWAY!
So – what am I giving away? Well – I'm going to give one lucky winner $25 gift certificate to use in either of my etsy shops – PersimonDreams and TheApple or, if you're in the Poynette, WI, area – at my brick and mortar apple store.  And it's simple to enter!
Required for ENTRY:  All you have to do is leave me a comment telling me which one of the Quilts in my etsy shop is your favorite:  Click HERE.  Be sure to include your email in your comment so I can notify you of your prize!  If I can't get a hold of you I will redraw!
If you want to be entered more than once – these are some bonus entry options:
That's it – just let me know you're favorite piece of mine for your entry.  If you really want my prize and are going for bonus entries – there are five opportunities for you!
***OPEN to everyone – I will ship internationally!****
The winner will be selected randomly on Tuesday, September 4th.
Be sure to click on the link to see all the other AMAZING giveaways being offered with this party! http://quiltinggallery.com/quilters-fun/quilters-blog-hop-party/