I'm really excited to be a part of the Quilting Gallery's big St. Patty's Day Blog Hop Party. If this is your first time here I just want to welcome you to my blog! I'll just give you a quick overview of the major things that happen on here: (and yes – I will ship internationally…)
Project QUILTING
The biggest thing that happens on my blog is 'Project QUILTING'. To find out more about Project QUILTING click HERE. This is actually perfect timing since the FINAL challenge of Season 3 is going to be posted this Sunday, March 18th at NOON. There are so many great PRIZES and it's not too late for you to have a chance to win one (or even the grand prize!).
The FINAL Challenge is POSTED! Ziggin and Zaggin
Home Sweet Home Quilt Along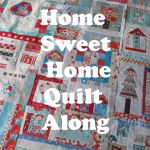 I'm also currently running a really fun Quilt Along where each block has to have either a tree, a house, or both incorporated into the block design. 16 block tutorials will be posted by different quilters by the time this quilt along is complete. 12 are already up but it wouldn't take too long to catch up – AND in the end you'll have an adorable, whimsical house and tree quilt to cherish.
Not only am I hosting a quilt along on my blog but I have become addicted with working on other quilt alongs as well. You get to follow along as my blocks grow into quilts and find out what I had trouble with, great new tricks I've learned, and see what colors I decide to go with.
Etsy
I'm an avid seller (KimsCraftyApple and TheApple) and supporter on etsy so I do post tips/tricks/tutorials to help you on your way to be a successful etsy seller. I also enjoy featuring great items I find on there.
I do have separate blogs for my family and orchard (yes, I own an apple orchard) but sometimes the news is just too great I can't help but to share it on here too!
Be sure to subscribe to my newsletter, Like me on Facebook, follow my boards on pinterest and follow me on twitter – so you don't miss out on all the fun that happens on KimsCraftyApple.
GIVEAWAY!
So – what am I giving away? Well – I'm going to give one lucky winner $25 in credit to either (or both) of my etsy shops – KimsCraftyApple and TheApple. And it's simple to be entered!
Required for ENTRY: All you have to do is leave me a comment telling me which one of the fabric and textile art items in my etsy shop is your favorite: Click HERE Be sure to include your email in your comment so I can notify you of your prize! If I can't get a hold of you I will redraw!
If you want to be entered more than once – these are some bonus entry options:
That's it – just let me know you're favorite piece of mine for your entry. If you really want my prize and are going for bonus entries – there are five opportunities for you!
***OPEN to everyone – I will ship internationally!****
The winner will be selected randomly on Sunday, March 25th.


Be sure to click on the link to see all the other AMAZING giveaways being offered with this party! http://quiltinggallery.com/quilters-fun/quilters-blog-hop-party/
Don't miss out on the FINAL Project QUILTING Challenge: http://kimlapacek.com/2012/03/project-quilting-season-3-challenge-6.html